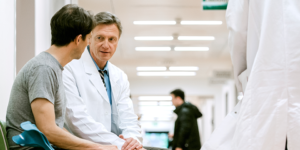 If you break a bone, it is very important that you get the right medical care, treatment and follow-up to make sure you don't break any more bones. Your healthcare provider may refer you to a fracture liaison service or FLS program. An FLS program operates under the direction of your doctor and an FLS coordinator. The FLS helps you reduce the risk of suffering from another broken bone. Your active participation and positive attitude will help you along this journey to better bone health.
A Fracture Liaison Service (FLS) fracture prevention program provides a bone evaluation and develops a personalized plan for you to reach and maintain your bone health to prevent future broken bones (also called fractures). If you are age 50 or older and have had a broken bone the FLS coordinator will contact you.
Your Initial Visit
During your first visit we will review your medical history, the history of your recent fracture, evaluate your risk for another broken bone and discuss treatment options.
Your healthcare provider may ask:
Have you had a bone density test? If so, when was it done?
Have you ever been told that you had bone loss, weak bones, osteoporosis or osteopenia?
Do you take calcium or vitamin D supplements?
Have you had any other broken bones since you turned age 50?
You will be scheduled for a follow-up visit one to three months after your initial visit. At that time, your provider will help evaluate your treatment and continue planning your care.
Follow up Visits
One of the goals of the FLS is to make sure you are evaluated, have a bone density test
Lab Work and Bone Screening
In order to understand your current bone health and determine why you had a broken bone, your healthcare provider will use a combination of the following methods:
Medical history
Your healthcare provider will ask you questions to get a complete medical history. In particular, you will be asked questions about any personal history of fracture, family history of fractures and other risk factors for osteoporosis. It is important to let your doctor know the medications you have been taking during the last 10 years because some are known to increase an individual's risk for low bone mass and fractures. physical examination Your doctor will give you a limited physical exam with emphasis on the spine or backbone. Many fractures in the spine go unnoticed by patients. Loss of height is often a sign of vertebral or spinal fractures.
Laboratory tests
There are some lab tests that are specific to bone health. We will check your medical records to see if any of these have been performed in the last six months. If so, these tests will not be repeated; and if not, these tests will be ordered and performed.
X-rays
An x-ray can help your provider determine if you have had any fragility fractures of the spine.
Care Coordination
One of the most important parts of the FLS program is care coordination. The FLS coordinator will make sure you complete any rehabilitation plan, keep follow-up medical appointments and begin and stay on prescription medication to prevent broken bones. Also, you will receive education and counseling on fall prevention and safety measures; diet and supplements of calcium and vitamin D; exercise; and lifestyle changes that may need to be made, like reducing the amount of alcohol you drink or stopping smoking.
BHOF offers the Fracture Liaison Service (FLS) Model of Care Training and Certificate of Completion specifically developed to provide participants with information about the benefits of a FLS program and provides information and tools about how to build and sustain the FLS program. To learn more and see those who are recipients of the FLS Certificate of Completion click here.
FLS TeleECHO's (Extension for Community Healthcare Outcomes) program offers case-based clinical discussions on a wide range of topics of interest. By participating, attendants will be able to receive free CME, connect with experts in the field, and share case studies. Sessions are on the 2nd Thursday of each month at 3pm ET. To view past session recordings click here. Submit your case studies monthly by using the form here and sending an email to andrea.medeiros@bonehealthandosteoporosis.org.
BHOF FLS Boot Camp
Our 2-hour program will provide you with the framework, systems, and strategies that will help you implement a fracture liaison service (FLS) program in your organization. Thank you to our participants who attended our August 8th Boot camp in Santa Fe, NM! Keep an eye out for our next boot camp in 2020. A special thank you to our sponsor, Amgen, for supporting FLS programming.
Additional Resources
–
Show More +