Bone Health Basics: Get the Facts
When you think about staying healthy, you probably consider lifestyle changes to prevent conditions like cancer and heart disease. Keeping your bones healthy to prevent osteoporosis may not be at the top of your wellness list. But it should.

Some people think of bones as hard and lifeless, but they are actually living, growing tissue. Your bones are made up of three major components that make them flexible and strong.
There are a variety of factors that put you at risk for developing osteoporosis. Talk with your healthcare provider about your risk factors for osteoporosis and work together to develop a plan to protect your bones.
Osteoporosis and the broken bones it can cause are not part of normal aging. There is a lot you can do to protect your bones throughout your life. You're never too young or too old to improve the health of your bones. Osteoporosis prevention should begin in childhood. But it shouldn't stop there. Whatever your age, the habits you adopt now can affect your bone health for the rest of your life. Now is the time to take action.
What can you do to protect your bones?
Get enough calcium and vitamin D and eat a well balanced diet.
Engage in regular exercise.
Eat foods that are good for bone health, such as fruits and vegetables.
Avoid smoking and limit alcohol to 2-3 drinks per day.
Getting enough calcium and vitamin D is essential to building strong, dense bones when you're young and to keeping them strong and healthy as you age. Find out what you need to know about the two most important nutrients for bone health.
The food that you eat can affect your bones. Learning about the foods that are rich in calcium, vitamin D and other nutrients that are important for your bone health and overall health will help you make healthier food choices every day.
There are two types of exercises that are important for building and maintaining bone density: weight-bearing and muscle-strengthening exercises. Learn about each type of exercise and how you can incorporate both into your exercise routine.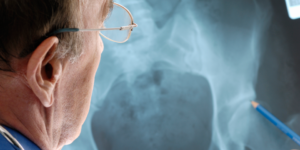 A medical evaluation to diagnose osteoporosis and estimate your risk of breaking a bone may involve one or more steps.
Low bone density is when your bone density is lower than normal, but not low enough to be considered osteoporosis. People with low bone density are more likely to break a bone and may have a greater chance of getting osteoporosis because they have less bone to lose.
Did you know…
Throughout your life, you constantly lose old bone while you make new bone?
Children and teenagers form bone faster than they lose bone. Even after children and teens stop growing, they continue to make more bone than they lose. This means their bones continue getting denser until they reach what experts call peak bone mass, the point when you have the greatest amount of bone you will ever have. Peak bone mass usually happens between the ages of 18 and 25. The more bone you have at the time of peak bone mass, the less likely you are to break a bone or get osteoporosis later in life.
As you age, you can lose more bone than you form. After you reach peak bone mass, the balance between bone formation and bone loss might start to change. You may start to slowly lose more bone than you form. In midlife, bone loss usually speeds up in both men and women. For most women, bone loss increases after menopause, when estrogen levels drop sharply. In fact, in the five to seven years after menopause, women can lose up to 20 percent or more of their bone density.
It's never too late at any age to take steps to protect your bones.
Debunking the Myths
Myth #1: Most people don't need to worry about osteoporosis.
Millions of Americans – 54 million to be exact – have low bone density or osteoporosis. In fact, about one in two women and up to one in four men over the age of 50 will break a bone due to osteoporosis. The disease causes an estimated two million broken bones every year.
Myth #2: Osteoporosis is only a problem for older Caucasian women.
While osteoporosis is common among white women, men and women of all races can have the disease. Also, while the disease is more common in older people, it can strike at any age.
Myth #3: You don't need to worry about osteoporosis if you just trip and break a bone.
Any broken bones in people over the age of 50 from standing height that are not caused by a serious accident (car crash, falling off a ladder, etc.) can be the first sign of low bone density or osteoporosis. Broken bones from tripping on the sidewalk or falling over something on the floor at home are often related to osteoporosis, yet frequently undiagnosed.
Myth #4: People with osteoporosis can feel their bones getting weaker.
Osteoporosis is commonly called a "silent disease." Often, breaking a bone is the first clue you have osteoporosis. Some people learn that they have osteoporosis after they lose height from one or more broken bones in the spine. These broken bones can even occur without any noticeable pain.
Myth #5: An osteoporosis test is painful and exposes you to a lot of radiation.
Experts recommend a bone mineral density test using a central DXA (dual energy x-ray absorptiometry) machine. It is simple, painless, takes 5-10 minutes and uses very little radiation. You are exposed to 10-15 times more radiation from flying in a plane roundtrip between New York and San Francisco.
Myth #6: Children and teens do not need to worry about their bone health.
Children and teens can build strong bones and prevent osteoporosis by being physically active and getting enough calcium and vitamin D.
Myth #7: If you drink a lot of milk and exercise, you are not at risk for osteoporosis.
Even if you drink plenty of milk and exercise, you still may be at risk for osteoporosis. There are many risk factors for osteoporosis – some you can control and some you can't.
Myth #8: Osteoporosis isn't serious.
Broken bones from osteoporosis can be very painful and serious. Broken bones can affect physical, mental and emotional health, and in some cases, result in death. It is important to take steps throughout your life to protect your bones.
Myth #9: Taking extra calcium supplements can help prevent osteoporosis.
Taking more calcium than you need does not provide any extra benefits. Estimate the amount of calcium you get from foods on a typical day to determine whether a supplement is right for you. Find out how much calcium you need.
Myth #10: Most people do not need to take a vitamin D supplement.
Vitamin D helps your body use calcium. If you don't get enough vitamin D, or if your body doesn't absorb it well, you are at greater risk for osteoporosis. Your skin makes vitamin D when it is exposed to the sun and is also available in a few foods. However, many people need a vitamin D supplement. Find out how much vitamin D you need and if a supplement is right for you.
Learn more information
What Women Need to Know